You are currently on the:
CMHA National
Visit our provincial websites

Mental Health Promotion and Education
Apr 11, 2023
To request a presentation, please call 519-752-2998, ext. 112. Presentations are offered both virtually and in-person.
Through education, information and community development, Mental Health Promotion provides programming to create an awareness of mental health and reduce the stigma of mental illness within Brant Haldimand Norfolk.
Services Include:
Seminars and workshops on stress management, mental health, mental illness, suicide prevention and postvention, workplace wellness including mental health and COVID and Mental Health Works. Organizations requiring custom-made training for their staff, can also be accommodated.
Workshops, conferences and professional development training are also offered in the community (Specialized training listed below)
Promotional campaigns on topics related to mental health, through events and activities
Fundraising events
Information dissemination
Volunteer coordination
Our Mental Health Promotion Team will also develop customized trainings for workplaces on various topics on mental wellness, mental illness, mental health in the workplace and other related topics. We are available to present at professional development days, agency in-services, lunch and learns, wellness fairs and other community events. For information on any of these trainings, please contact Lill Petrella, Mental Health Promotion & Education Team Lead at 519-752-2998, ext. 112,   e-mail [email protected]
Specialized Training

Mental Health Works is a national social enterprise of the Canadian Mental Health Association. The program provides capacity building workshops that are person centred, evidence based, and solutions focused. We will help you to build mental health awareness in your workplace. We will teach you skills for how to respond to challenging situations. We will collaborate with you toward a more psychologically healthy and safe workplace.
Yes, improving workplace mental health is good business. But it's more than that.
It's the right thing to do.
WHAT WE DO
Mental Health Works provides capacity building workshops on workplace mental health to both employers and employees. Our approach is person centred, evidence based, and solutions focused. We meet the needs of workplaces for mental health training in three essential areas.
Types of workshops and descriptions
To request any of these workshops, please contact:
Lill Petrella, Team Lead, Mental Health Promotion & Education at 519-752-2998, ext 112, or e-mail: [email protected]  Please note: There are costs associated with these workshops, which can be discussed with the trainer.
In the Know – Mental Health Literacy training for Agricultural Workers
In the Know is a mental health literacy program developed at the Ontario Veterinary College, University of Guelph created specifically to educate the agricultural community. This half-day training program is being made available through CMHA [Branch name] thanks to a partnership of the Ontario Federation of Agriculture (OFA), the University of Guelph and CMHA Ontario. Trainings will be delivered online until public health measures allow for in-person delivery.
An evaluated pilot of In the Know training in 2019 showed the course increased participants' mental health knowledge and confidence in recognizing mental health struggles, speaking about mental health, and helping others who are struggling. Spearheaded by Dr. Briana Hagen, Dr. Andria Jones-Bitton of the Department of Population Medicine at the University of Guelph, and a stakeholder team from farming and mental health backgrounds, In the Know aims to build mental health knowledge and increase help-seeking among farmers. The course provides education on topics such as stress, depression, anxiety, substance misuse and how to start a conversation around mental well-being.
The program will give this community the opportunity to discuss mental health openly and safely. We believe In the Know, with its farming-specific scenarios that put mental health into perspective for agriculture workers, will resonate well and improve lives as a result.
For more information, or to bring this training to your organization or community please contact Lill Petrella at 519-752-2998, ext. 112, or email [email protected]
Psychological Health & Safety in the Workplace

What is a psychologically healthy and safe workplace?
The CSA Standard Z1003-13 (R2018) "Psychological health and safety in the workplace – Prevention, promotion, and guidance to staged implementation" defines a psychologically healthy and safe workplace as a "workplace that promotes workers' psychological well-being and actively works to prevent harm to worker psychological health including in negligent, reckless, or intentional ways."
Psychological health is related to mental health, which is also defined in Z1003 as "a state of well-being in which the individual realizes his or her own abilities, can cope with the normal stresses of life, can work productively and fruitfully, and is able to make a contribution to his or her community." This definition references the World Health Organization, who note that in this positive sense, mental health is the foundation of well-being and effective functioning for an individual and for a community.
Thirteen organizational factors that impact organizational health, the health of individual employees and the financial bottom line, including the way work is carried out and the context in which work occurs risk are outlined in the Z1003. The 13 factors are discussed in the OSH Answers document Mental Health – Psychosocial Risk Factors in the Workplace.
For more information, or to bring this training to your organization or community please contact Lill Petrella at 519-752-2998, ext. 112, or email [email protected]
Talk Today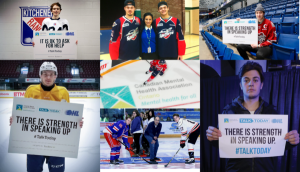 Talk Today is one of the most comprehensive mental health programs for amateur sports in Canada. Its aim is to promote the mental health of young athletes and to spread awareness about the benefits of positive mental health throughout communities across the country.
Originally launched by CMHA Ontario Division in partnership with the OHL in 2014, Talk Today provides an important opportunity to address the mental health needs of athletes across the province and across Canada. This program has become a valuable platform for CMHA branches, teams and individual players to encourage open discussion about mental health within the hockey community and the broader public.
---
How Talk Today helps
Mental Health Training for Players and Support Staff
All participants receive training in safeTALK, an accredited program that teaches individuals to recognize persons with thoughts of suicide and how to take action. Coaches, team staff and parents who provide support to the players can also receive safeTALK, as well as ASIST, a training which teaches people how to recognize individuals who are at risk and intervene to prevent suicidal thoughts and behaviours.
To date, over 2,600 athletes, coaches, and team staff in Ontario and over 5,000 across Canada.
Mental Health Coach
Each team has a designated CMHA Mental Health Coach to provide resources and supports for the players as well as the people that surround them.
Mental Health Champion
Each team has a local Mental Health Champion, who acts as an advocate on mental health issues within the community and helps players connect with their local CMHA Mental Health Coach.
Talk Today Community Events
Each team hosts a Talk Today community event at one home game to show its support for mental health and raise awareness about CMHA mental health programs in the community.
For more information, contact Lisa Mackay at 519-752-2998, ext. 103 or email [email protected]