You are currently on the:
CMHA National
Visit our provincial websites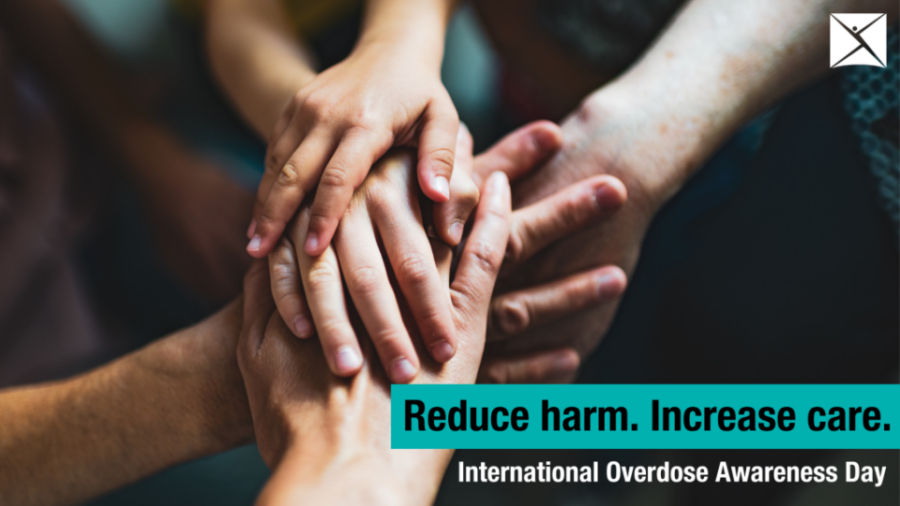 Preventing drug-related deaths
Aug 27, 2023
Last year, 7,328 people in Canada died from apparent drug poisonings – an average of 20 deaths per day. These deaths were largely accidental, meaning those using drugs did not want to die.
We can prevent drug-related deaths. To do so, we first need to stop trying to ban drugs. We need to stop demeaning people who use drugs and criminalizing them. And we need to do everything we can to reduce the harms of using drugs.
Here's how we do that: 
Beyond "us" and "them": De-stigmatizing substance use and supporting safety and wellness 
People use substances for all sorts of reasons – for relaxation and pleasure, to cope with life's challenges, and to manage physical pain or trauma. Most of us consume substances of some kind – caffeine, alcohol, tobacco, cannabis, prescription medications or psychotropic drugs. Using substances is part of the human experience and has been for centuries. While many of us do not experience significant harms from using substances, some may experience problems, such as addiction or dependence, hospitalization or even death.
The introduction of substances like fentanyl, carfentanil, benzodiazepines and, more recently, xylazine, to the unregulated (illegal) drug supply means that the risks associated with using an unregulated substance is much higher. Whether someone is taking an unregulated drug for the first time, or does so recreationally on the weekends, or uses it daily, there is a risk of drug poisoning.
That's why it's more accurate to say that the drug supply in Canada is "toxic" rather than talking about the "overdose crisis." A person doesn't necessarily "overdose" or become unresponsive because of the amount or type of drug they used. A single grain of fentanyl or carfentanil can be lethal.
In whatever ways you use substances, it's important to know the risks and consume as safely as you can. This involves awareness-raising campaigns and education about the risks, particularly for young people, alongside strong regulations related to the marketing, packaging and distribution of legal substances. To address the toxic drug supply, we must invest in harm reduction, safer supply, and advocate for decriminalization. To learn more, see https://www.drugpolicy.ca/wp content/uploads/2013/01/CDPC2013_en.pdf
Reducing the Risk
We can all reduce the risk when using substances: Get informed. Never use drugs by yourself. Visit a harm reduction site. Get naloxone, an antidote for opioid poisoning. Start low and go slow. Get your drugs checked. Advocate for decriminalization. Stay connected. Talk to someone. Ask for help. Offer help. Listen. Respond. To learn more about naloxone, visit https://www.canada.ca/en/health-canada/services/opioids/naloxone.html
Decriminalization
Decriminalization alone will not end the drug poisoning crisis in Canada, but it is an essential step. The criminalization of people who use drugs occurs through punitive drug laws, prohibition and policing, which all shape public attitudes about drugs and the people who use them. While the arrests for simple possession have purportedly been on the decline in Canada, drug use continues to be criminalized through police presence near sites where people use drugs and through sanctions on how and where people can use drugs. When drugs are criminalized, a line is drawn between people who are seen as "legitimate" and deserving of care and concern and those who are seen as illegitimate, undeserving, and stigmatized. We also see increases in violence and harms related to the introduction of an unregulated supply of toxic substances. Research from around the world shows that the criminalization of drugs does not reduce drug use; rather, people who use drugs face considerable stigma by health care providers and are subsequently less likely to access to medical treatment and harm reduction services. Decriminalization is about safety and dignity.
Harm reduction and safer supply
Harm reduction is an evidence-based, client-centred approach that seeks to reduce the health and social harms associated with addiction and substance use, without necessarily requiring people who use substances from abstaining or stopping. It allows people who use drugs to have increased control over their lives and their health and to protect themselves, their families and their communities. Harm reduction includes supervised consumption services, the distribution of supplies, such as sterile injection and inhalation equipment, drug checking, safer supply programs, which provide prescribed medications to some people who use drugs, and policies like decriminalization.
It's important that harm reduction services keep pace with the changes in the needs of people who use drugs. In Canada, that means having more harm reduction sites with the infrastructure to allow people to inhale drugs, as increasingly, the majority of deaths from toxic poisonings in Canada occur by smoking. Currently, harm reduction services are centered on the needs of those who consume drugs nasally, orally or through injection.
Healthcare and social supports
In some cases, the use of substances can become problematic, and the underlying reasons may be linked to trauma, psychological or physical pain. It is important, as part of ensuring the health and wellness of people who use drugs, that a continuum of integrated mental health and addiction supports are available, alongside harm reduction services should they want to access them. In Canada, mental health and addiction supports are not adequately funded, as those looking for access might discover long wait times or have to pay out of pocket to be able to get them. Help advocate for better care by visiting Act for Mental Health.
---
1 Government of Canada, "Opioid-and Stimulant-related Harms in Canada, June 2023," (June 26, 2023),
https://health-infobase.canada.ca/substance-related-harms/opioids-stimulants/
2 Benzodiazepine is a relaxant often prescribed for the treatment of anxiety, and Xylazine has been traditionally used as an animal tranquilizer in veterinary settings. When Benzodiazepines and Xylazine are mixed with fentanyl, they depress breathing and are often lethal. Xylazine also causes painful wounds and abscesses. Both benzodiazepine and Xylazine do not respond to Naloxone.
3 Benjamin D. Scher, Scott D. Neufeld, Amanda Butler, Matthew Bonn, Naomi Zakimi, Jack Farrell, and Alissa Greer, "'Criminalization Causes Stigma:' Perspectives from People who Use Drugs," Contemporary Drug Problems 2023 https://journals.sagepub.com/doi/pdf/10.1177/00914509231179226
4 Scher et al., 2023.
5 https://www.drugpolicy.ca/wp-content/uploads/2013/01/CDPC2013_en.pdf
6 https://drugdecrimcanada.com/statistics/
7 https://ontario.cmha.ca/harm-reduction/
8 https://www.cbc.ca/news/canada/british-columbia/toxic-drug-deaths-from-smoking-bc-1.6606503